AquawallgymTM Training System
Aquawallgym<sup>TM</sup> Fitness Functional
Aquawallgym<sup>TM</sup> Fitness training concept is recommended for those whose aim is to improve their fitness level and strength, and desire a well-conditioned, athletic body. Because of these exercises we become energetic and powerful. Beyond the dynamism the focus is on the accurate and controlled execution of the movements and therefore the control of the posture, the improvement of the coordination and the balance plays an important role as well.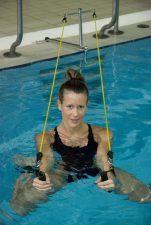 Aquawallgym<sup>TM</sup> Fitness Cardio
This training concept aims to improve cardiovascular (aerobic) endurance. The capacity of the lungs increases, the function of the heart muscles improves, and it boosts the oxygen in-take capacity of our blood. Due to the activation of aerobic metabolism during the exercises we rapidly burn off body fat.
We have an opportunity to improve our endurance in a well-controlled way, thus the concept is recommended as part of weight loss programs; as prevention of heart and cardiovascular problems; as well as for pregnant women (only with medical permission) due to the beneficial properties of water.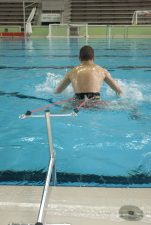 Aquawallgym<sup>TM</sup> Rehab
Thanks to its versatility the Aquawallgym<sup>TM</sup> Training System has an important role not only in prevention but in rehabilitation also.
In case of orthopaedic and rheumatologic diseases, by combining the supporting buoyancy and the viscosity of the water we are in an ideal environment for the careful and multi-faceted therapy. Adding to this, elastic resistance allows an accelerated healing program. In traumatology we use it post injuries as a part of the preparation for surgeries and afterwards in rehabilitation. In the field of neurology, impaired functions, abilities, balance, coordination and walking can be safely developed. In case of cardiovascular disorders, we apply the Aquawallgym<sup>TM</sup> Cardio training concept.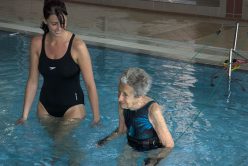 Aquawallgym<sup>TM</sup> Sport
The aim of Aquawallgym<sup>TM</sup> sport-specific functional training is to enhance the athletes' performance.
Besides this goal the concept focuses on decreasing the number of risks causing injuries, as well as the quick rehabilitation of the injured athletes. The athletes' endurance and strength improve, their movements become faster and more powerful. Their coordination and balance get better, making their movements more precise and effective.
Therefore this program could have a significant importance in the development of performance, strength, endurance and speed in water sports; in for the athletes of non-water sports it offers a safe but highly effective additional workout during the training camps in preseason or during the recreational periods.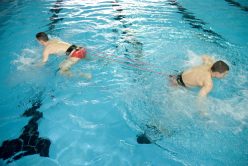 If you would like to attend the Aquawallgym<sup>TM</sup> Training System courses, please contact us.